Please find below a small selection of our testimonials. We have many more collated in a 'Thank You' book which we would be proud for you to view.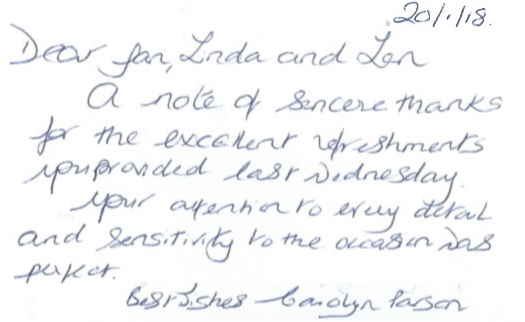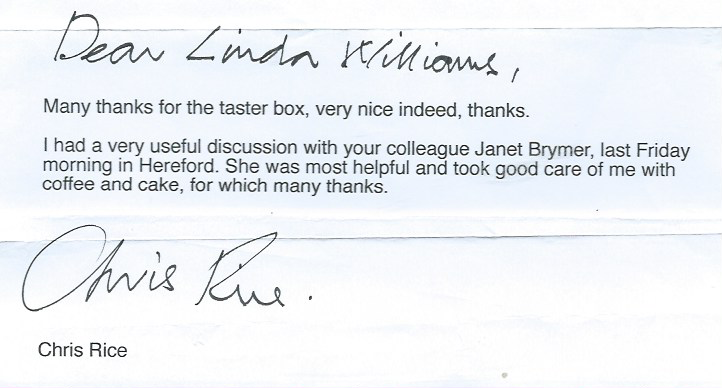 It was a pleasure to see the tables laid up with pretty table cloths and even prettier tea sets. Each table had a matching set including teapots, milk jugs, sugar basins and bespoke 3 tier cake stands. I will certainly use Cakes and Catering again as it was so nice to have everything homemade and delicious.
I.E. Williams.
Dear Janet and Linda
A massive thank you for our Annual Dinner and Dance Meal.
The menu you supplied was fantastic. Every aspect of the meal was second to none and we have a few members who now like red cabbage! We could not recommend you higher and will be doing so to friends, family and fellow club members.
Many thanks Paige and Alice
Secretaries of Crucorney YFC.
Dear Linda and Janet
The cake looked amazing and was the subject of many photographs; they have been posted all over the world. Within hours they were put on Dean's Rugby Team's site. Not only did it exceed our visual expectations but it tasted scrumptious.
From the outset we were impressed with your attention to detail and the professional way you set up the tasting menu. I can recall our first meeting; you made us feel at ease as we chatted about the wedding at a very wet Herefordshire Wedding Fair.
We were delighted with the quality of service offered by you.  Throughout you were courteous, knowledgeable and attentive.
Mo and Phil